Muscadine Products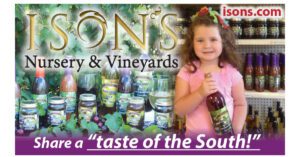 Now you can enjoy the sweet delicious flavor of muscadines year round. We offer many edible products made from fresh, juicy muscadines that your whole family will enjoy.
Choose from delectable sweet beverages such as muscadine juice, scuppernong juice and muscadine cider. Enjoy muscadine jelly, muscadine preserves or muscadine butter on fresh home made biscuits.
We are also offering some unique items such as our Muscadine salsa, muscadine dressing, muscadine BBQ sauce and many others. These all have become a hit with many of our customers.
These muscadine products also make great gifts for family and friends during the holidays or for that special occasion. We have several gift packs that are custom made to your requests. Share some muscadine magic with your friends and family.
**  Please Note That Muscadine Juice & Jellies Must Be On An Order By Themselves.