About Ison's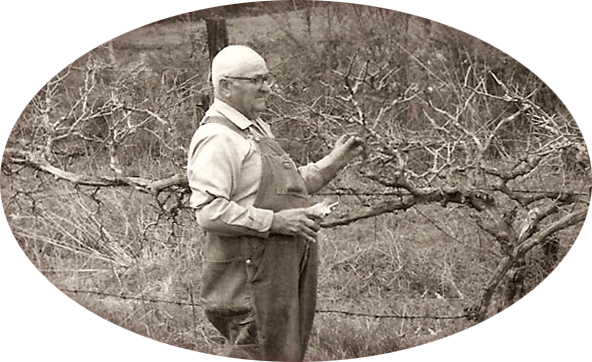 Our grandfather Grady Ison
Pruning a muscadine vine
Since our grandfather planted the first muscadine vine in 1934, the Ison family has enjoyed a long relationship with the muscadine grape. What started out as a modest 3 acre vineyard has evolved into more than 40 acres of vineyard and a nursery offering over 200 varieties of fruit, nut and berry plants. In the late 1960's, our dad Bill Ison and Dr. B.O. Fry began breeding muscadines in order to improve size, taste and production. From the fruits of their labor we now have 22 patented varieties of muscadine! These varieties are considered the best for commercial vineyards, u-pick operations, and the backyard hobbyist. Our parents Bill and Leola Ison dedicated their lives to building the market we have today for this amazing fruit.
Our dad Bill grandfather Grady Ison standing beside a Hunt muscadine that was planted on our farm in 1934.
To read more about the History of Ison's Nursery & Vineyard CLICK HERE
The History of the Ison Family and The Muscadine
Well, we (the Ison Family) were growing, eating, sharing and encouraging everyone to try the muscadine grape before they were the latest craze, before anyone had discovered the extensive health benefits of eating them and before they had become a great investment as a cash crop. Our history with this southern delicacy dates back 86 years to 1934 when our grandfather, Grady Ison, planted the first muscadine vine on our farm.
As a little girl, I thought everyone had muscadines in their back yard. We grew up in the grape vineyard, 3 girls and a boy. Darlene, Janet, Pam and Greg. We also grew up listening to our dad, Bill Ison, promote his beloved muscadines. He called it "Muscadine Magic" and he was right – once you taste this delicious southern fruit it will cast a wonderful spell on you! There is no other fruit like the muscadine.
We are very proud of our heritage with the muscadine and we are also very proud of the accomplishments of our dad, Bill Ison, in the muscadine industry. He had a joy and a passion for muscadines that I think is still unsurpassed.
This is an excerpt from the book that Bill Ison wrote before he passed away in 1995 All About Muscadines, Blueberries and Blackberries For The Growers Of These Fine Berries.


Bill Ison
"…My father was a big cotton grower when 'Cotton was King.' Although we grew many other crops and raised cattle, in 1934 my father was captured by the magic of musadines. This came about when my father, Grady Ison, visited Mr. Z. L. Scott of Hollonville, Georgia. Because of this visit three acres of several muscadines were planted.
Of all the types of crops grown on our farm, the muscadines were the most enjoyable. I looked forward each fall to the ripening time. Even while still a child, I would visit the vineyard several times a day.
From 1964 when my father turned over the management of the nursery and vineyard to me, we then planted forty acres, growing only muscadines, blueberries, blackberries and different types of fruit. Now, Muscadine was "King!" However, not until 1968 when Mr. B.O. Fry retired from the Georgia Experiment Station and began his work with me at Ison's Nursery did the "Kingdom flourish!" Dr. Fry planted over 50,000 seedlings and up until this date there have been 25 releases of new varieties developed on six acres of breed plots and seedling vineyards."
The third generation of Ison's took over the farm in 1995. Since that time we continue to grow and expand. Although we specialize in Muscadines, Blueberries and Blackberries, we also offer you what is in our opinion the best tasting fruit and nut trees available.
Nothing tastes better than fruit picked fresh from the vine at full maturity, dripping with sweetness, the flavor exploding in your mouth. After enjoying the delights of your own home grown fruit, the fruit you purchase in the supermarkets will be a disappointment.
Please browse our website and catalog. We are happy to assist you in anyway possible.
Let's Grow Together!
Greg, Darlene and Janet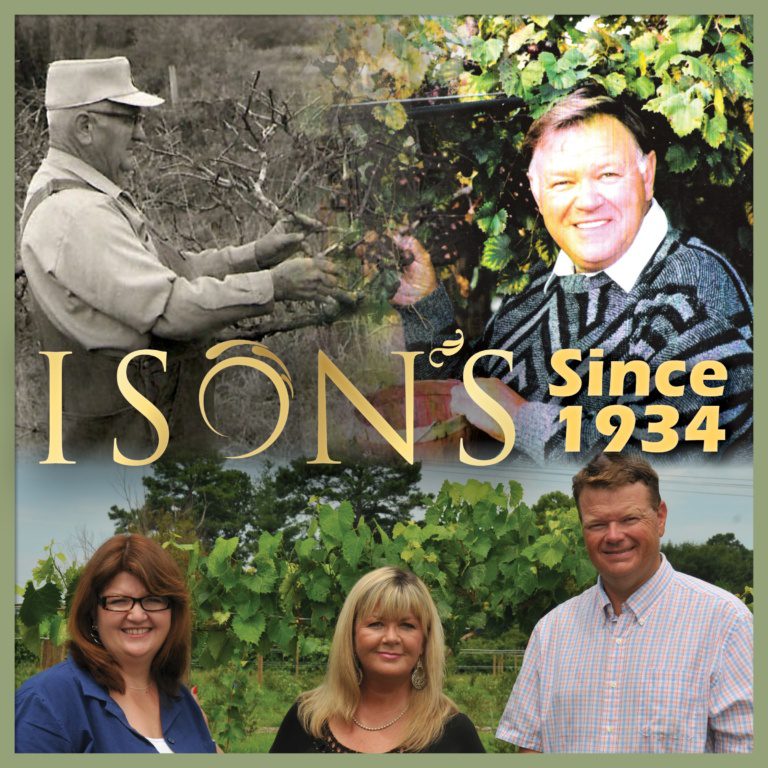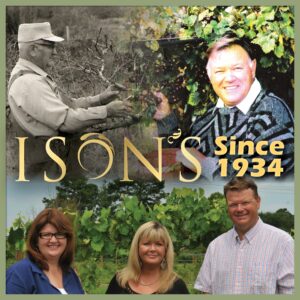 To read more about the History of Ison's Nursery & Vineyard CLICK HERE
A few of our catalogs from the 70's. Our dad, Bill Ison was a very forward thinking nurseryman. He set our business up primarily as a mail order business from the beginning and this was way before there was anything called the internet or Amazon.