Fresh Fruit Muscadines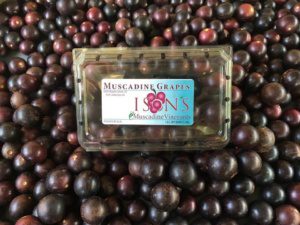 Reserve Muscadine Grapes Now to be shipped late summer.
Muscadine Grapes will begin shipping late August and through the month of September.
From our vineyard to your door. Muscadines are like Christmas, they only come around once a year.
We ship them Monday's, Tuesday's and Wednesday's in September.
They are picked by hand in the morning, chilled then shipped in 1 lb. clam shells to your door.
Share a taste of the south with family and friends. Take a look at the video clip. This is Supreme – the variety we ship directly to you.
Showing all 2 results