Fresh Fruit Muscadines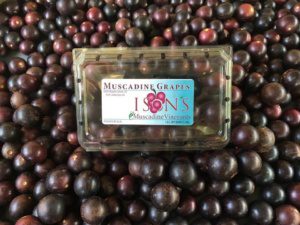 We have stopped taking orders for muscadine fruit.


You may call (770) 599-6970 to get on the waitlist
_______________________________________________
*** Muscadine Fruit Must Be On An Order By Itself. ***
Because of the timing of shipping and the specialized boxing required – we do not allow other plants, trees or inventory to be included when ordering Fresh Muscadine Grapes.
_______________________________________________
Muscadine Fruit ships in late August and September
There has been a tremendous demand for fruit this year.
From our vineyard to your door.
Enjoy beautiful black Supreme muscadine grapes today. The muscadines are freshly picked in our vineyard then cooled and packaged in a special insulated container to ship directly to you. Supreme is the highest quality muscadine available. It is our most popular variety and everyone who tries it loves it.

Muscadines are like Christmas, they only come around once a year.
We ship them Monday's, Tuesday's and Wednesday's in September. 
They are picked by hand in the morning, chilled then shipped in 1 lb. clam shells to your door.
Share a taste of the south with family and friends.  Take a look at the video clip.  This is Supreme – the variety we ship directly to you.
Showing all 2 results