Muscadine Variety Spotlight: FRY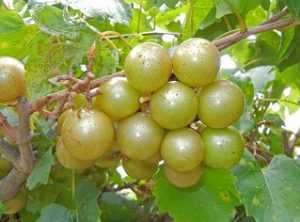 Fry is a variety that was released in 1972 by Dr B.O. Fry.
In all regards the release of this variety was a Game Changer. Prior to Fry there was no commercial fresh fruit market for muscadines, all of the varieties before Fry were small in size, disease issues were a concern, or either the yields were not heavy enough.
Fry changed everything, it was much larger than the previous varieties, and it could be picked a little on the green side and was still sweet.
This marked the beginning of the fresh fruit muscadine industry, so all of a sudden muscadines became a crop that could be planted and grown commercially for fresh market sales.
In the 1970's through the mid 1980's Fry represented about 75% of our plant production, the other 25% was comprised mostly of Carlos, Noble, Cowart, and a hand full of others. One of the unique qualities of the Fry muscadine is that it ripens over a prolong period of time, we can harvest Fry for about 6 weeks from beginning to end which made the variety perfect for you pick operations as well as commercial sales. All of our newer varieties over the years can all be traced back to Fry and we are thankful for the time our father and Dr. Fry worked together at our nursery. The Fry variety was exceptional in every aspect as well as Dr.Fry was, if you have room in your vineyard or would like to plant a few vines we recommend Fry.